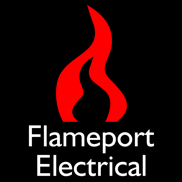 Woodhurst fusewire and metal key on card
Avoid futile searching in darkness.
Photo from Paul Clark.
WA100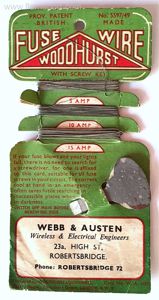 This example has the typical 5, 10 and 15 amp values of fusewire, plus a more unusual 'key' for undoing the screw on a fusebox cover.
Overprinted with the details of a Robertsbridge company Webb & Austen.
Age unknown, but the presence of a 2 digit telephone number suggests 1950s at the latest.
The address for Woodhurst is given as London NW9, rather than the Colnbrook address on the other example.
Card Text
if your fuse blows and your lights fail, there is no need to search for a screwdriver, for one is affixed to this card, suitable for all fuse screws in your circuit. The correct tool at hand in an emergency often saves futile searching in inaccessible places when in darkness.
SWITCH OFF MAIN BEFORE RENEWING FUSE
WEBB & AUSTEN
Wireless & Electrical Engineers
23a, HIGH ST,
ROBERTSBRIDGE.
Phone: ROBERTSBRIDGE 72
Produced by Woodhurst Equipments, Electra House, Kingsbury Green, London N.W.9
Card No. W.A.100