Loblite dual 13A and 5A adaptor
Providing one extra 5A socket
Front and Back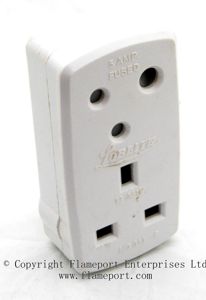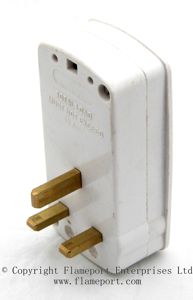 This adaptor provides one 5A round pin socket from a 13A flat pin socket.
It has a 13A flat pin socket on the front, so that the original socket can still be used.
Front Text
5 AMP. FUSED
Loblite
13 AMP
NO. 513 F
Dual use moulding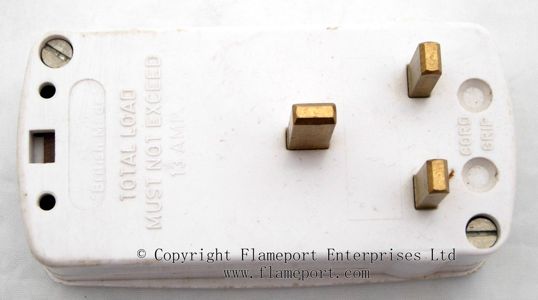 The back reveals that this same plastic moulding could be used for another purpose.
The indents marked 'Cord Grip' are for another model of this adaptor, in which an appliance can be directly wired to the adaptor.
This seems to be a fairly useless idea, since you could only use the 5A adaptor while the wired appliance was also powered.
Inside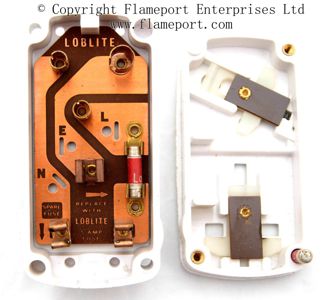 Internally, all of the contacts and connections are on a printed circuit board.
A 5A fuse is fitted which applies to the 5A outlet only - the 13A outlet is directly connected to the pins.
Both line and neutral contacts for the 13A socket show signs of overheating and damage.
Spare Fuse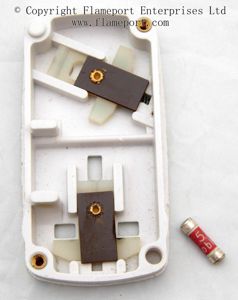 The casing has a small recess (bottom right) for a spare 5A fuse. The fuse is a BS646 type, which is the same as used in the small number of BS546 round pin plugs that had fuses in them.
This spare fuse and the one fitted to the PCB are both original Loblite branded ones.
The shutters over the socket holes can also be seen. These are operated by the earth pin pushing the shutter to open the line and neutral holes.
The lower shutter for the 13A socket is missing the spring which holds it closed.
Additional pictures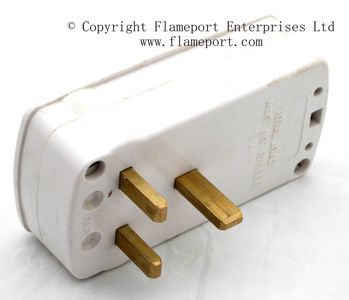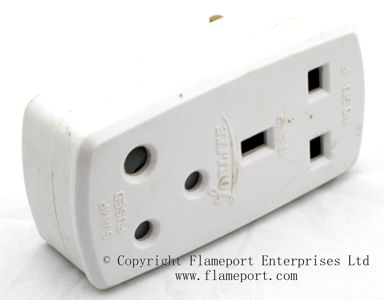 Further photographs showing the front and back.