Block shaped IRL multiple adaptor
15A Plug, 15A & 5A Sockets, BS546 &BS372
Multiple Options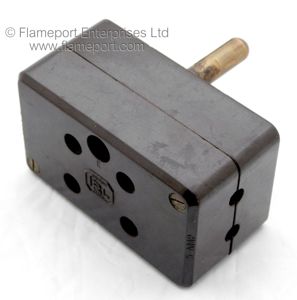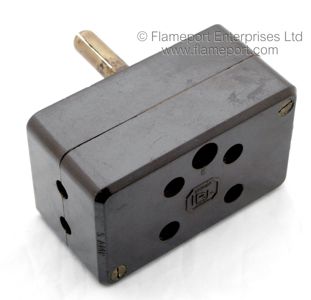 This substantial size adaptor block has a 3 pin 15A plug on the back, two pin 5A sockets on each side, a 3 pin 15A socket on the front, and two other holes forming a 2 pin 15A socket.
The front has the IRL logo, and the words 'British Made' around it. There is a letter E for Earth just below the top centre hole.
The chamfered edges are marked 5A, referring to the two pin sockets on each side.
15A Plug Pins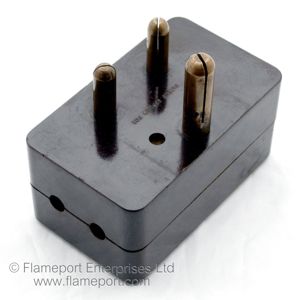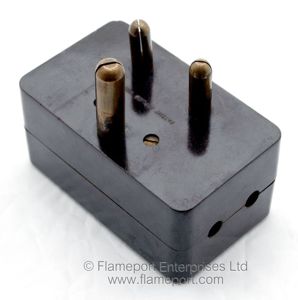 The plug pins are solid brass.
15 Amp, BS546.
Text in the centre reads 'PATENT APPLIED FOR'.
Side and Front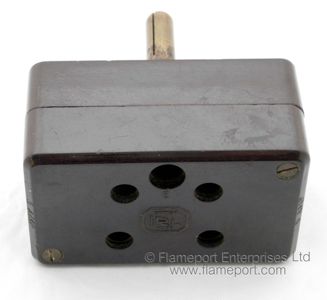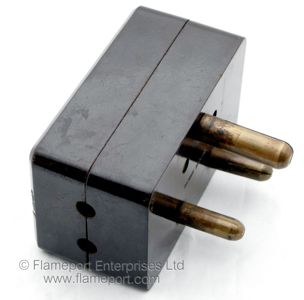 The plug pins are BS546, 15 Amp.
The side sockets as BS372, 5A.
The front sockets are both 15A - BS546 for the 3 pin and BS372 for the 2 pin. Note the slightly narrower spacing of the 2 pin socket compared to the 3 pin.
Internals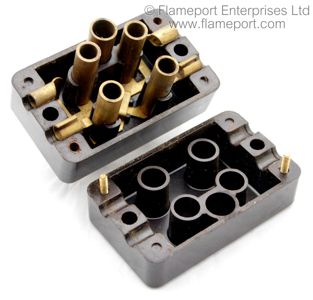 Inside, the socket tubes and the internal connections are made from solid brass.
The case is secured with two screws, one in each corner.
The two smaller screws either side of the earth pin secure the contact assembly into the bakelite base.
Note there is no fuse for any of the outlets.