VF Empire brown bakelite adaptor
BS1363 13A plug with BS372 5A sockets.
Three Sockets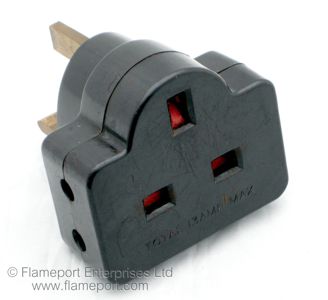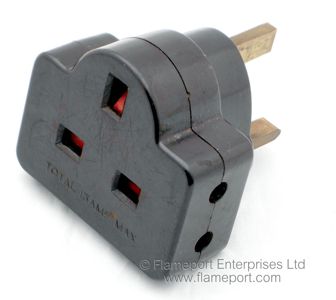 This adaptor has three socket outlets - a 13A BS1363 on the back, and two BS372 5A round pin on the sides.
This provides two 5A sockets while preserving the original 13A socket this would be plugged into.
The front is marked TOTAL 13 AMP MAX.
Plug Pins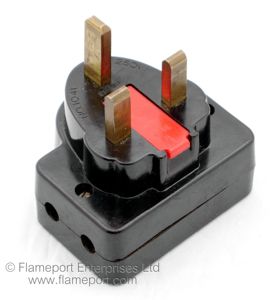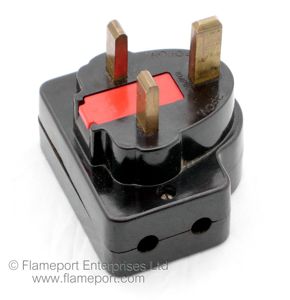 The plug pins are BS1363, 13A - the same as those used for modern plugs and sockets.
Solid brass and unsleeved.
The adaptor is marked EMPIRE, NO.1014, 250V.
Fused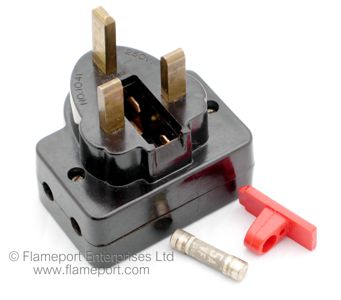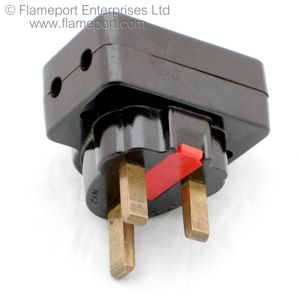 A BS1362 5 amp fuse cartridge is fitted, which is for both of the 5A side outlets.
The 13A outlet is directly connected without any fuse - not an issue, since any plug inserted into it would have it's own fuse inside.
Internal construction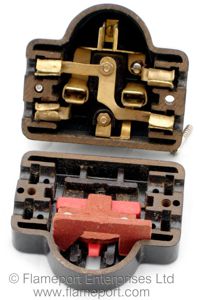 Internally, all connections are made from pressed brass, the three pins connect directly through to the corresponding socket on the back.
The side 5A sockets are directly connected to the neutral, and line via the 5A fuse.
The BS1363 socket has shutters, opened by inserting the earth pin of the plug.
The other red material is a spacer, used to hold the brass components in position.