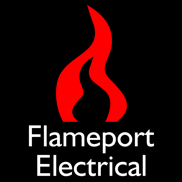 Old Electrical Equipment - Volex 3 piece ceiling rose
Plastic ceiling rose made by Volex. Probably dates from around 1960.
Assembled rose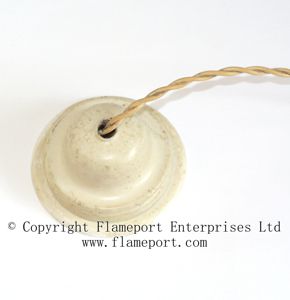 The rose as it would have appeared on the ceiling. The twin twisted flex is typical of lighting pendants of this age.
This example is rather dirty and yellowed. Originally it was white.
Three separate parts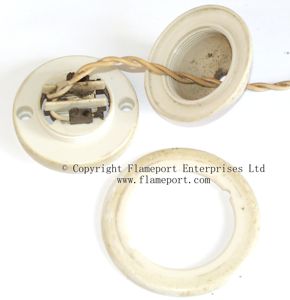 The domed cover unscrews to reveal the terminals inside. Note there are only two terminals - no provision for any earth connection, or any loop terminals for the rest of the circuit.
The main part of the rose has two fixing holes 2 inches apart. This would have fixed directly onto a round conduit box, with any additional connections being in the conduit box, rather than on the rose itself.
The round ring fits between the rose and the conduit to cover the edge of the metal conduit box and give a neat appearance when fitted to the ceiling.