Old Electrical Equipment - MK Light Switches
Two lightswitches made by MK.
Single and double switches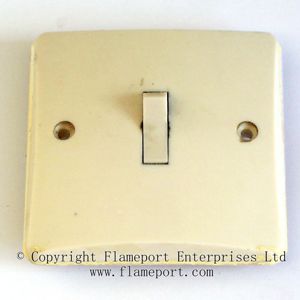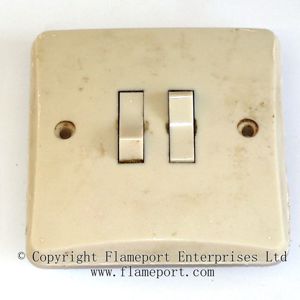 Both of the same style and age, probably from the late 1960s.
Originally these would have been white, however years of people smoking has discoloured them. it appears they haven't been cleaned since they were installed either.
The edges have various shades of coloured emulsion paint on them, as whoever painted the room couldn't be bothered to remove the switches first.
These are the same size as modern lightswitches, and the fixing holes are the same spacing. It is therefore a simple task to replace switches like this with new ones, provided the wiring is in good condition.
Double switch - rear view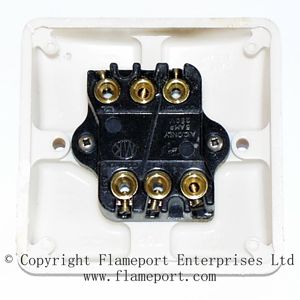 The back of the switch is much cleaner. Note how substantial the terminals and terminal screws are - far larger than on a modern light switch.
The terminals are arranged in the typical 'triangle' arrangement, and the black plastic moulding helpfully has a diagonal line in it to denote each gang of the switch.
Single switch B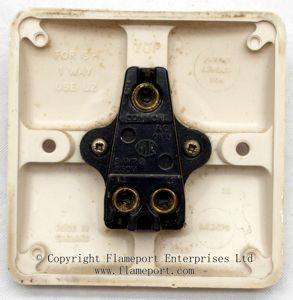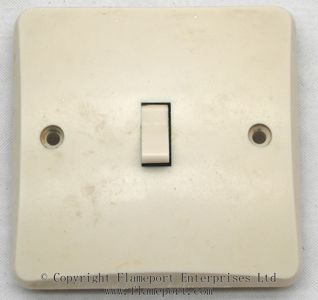 Another single switch with a slightly different design. This one is a two way type, and so has three terminals on the back marked Common, L1 and L2.
Rated to 5 amps, suitable for inductive lodas (hence the X after the rating). Oval MK logo moulded into the back.
This type of switch can be used as a single one way switch, and the moulded back states 'FOR SP 1 WAY USE L2' - the two wires would connect to Common and L2, with L1 not used. The back is also marked with 'TOP' so that when wiring is connected in accordance with the instructions, the switch operates in the expected fashion - down for on.
Like all of the other MK items of the period, this is Made In England. Part numbers 6323 (plate) 6254 (switch). Complies with BS3676.