Old Electrical Equipment - MEM 4 way enclosed metal fusebox #1
Metal cased fusebox with four concealed ceramic fuses. Originally installed in the early 1970s.
Similar to this other example.
Outside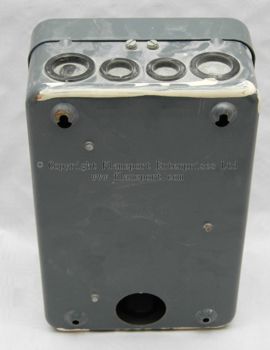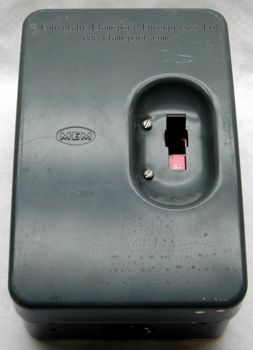 The outer case is grey painted steel. Only the main switch is visible when closed.
The cover is secured with the two small screws to the left of the switch. The cover can only be removed when the switch is off.
The top and bottom have various blanks which can be removed to allow wiring to enter. In this example, most of the wiring entered through the large hole in the back.
The front cover has the 'MEM' logo embossed into it.
The white stripe along the top is the inevitable emulsion paint.
Inside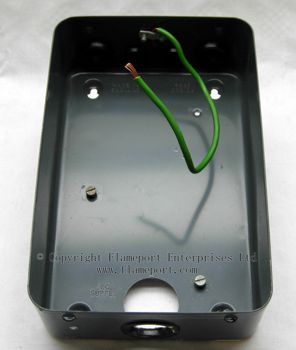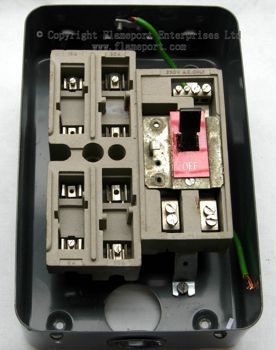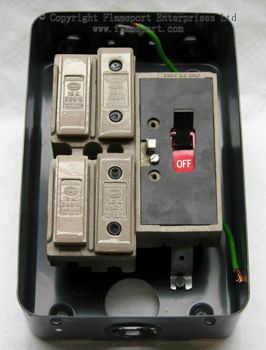 Internally, there are four ceramic rewireable fuses. A plastic shield covers the main switch terminals.
The fuses are of different ratings, each being a slightly different size to prevent them being inserted into the wrong positions. Ratings in this example are 30A, 30A, 15A, 5A.
The ceramic inner can be completely removed, leaving the empty box.
The single earth terminal is at the top centre, and still has a single green insulated wire attached to it.
Ceramic internals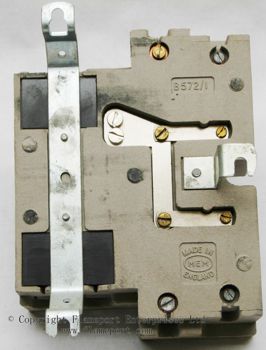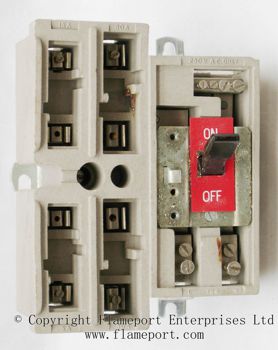 The inner section is made from a single piece of ceramic, with the metal components bolted to it.
Incoming supply wires connect to the two terminals bottom right, and individual circuits connect to the smaller terminals at the top and bottom of the four fuses.
Circuit neutrals connect to the terminal strip above the main switch.
Back of the ceramic piece
The large metal strap on the left side and the smaller metal hook on the right centre are used to secure the ceramic piece into the metal case.
Switch and terminal details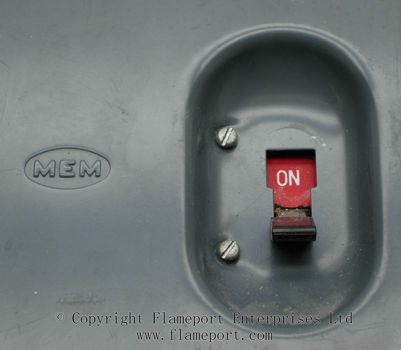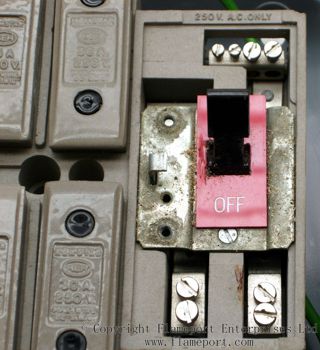 The incoming terminals have two screws, which are normally covered by a plastic plate. This prevents accidental contact when changing fuses.
The main switch is locked in position with the cover removed, so it cannot be turned ON unless the cover is in place. The lock is released by the small metal tab to the left of the switch - the cover presses this tab in to release the switch.
The shape of the cover prevents the cover being removed when the switch is On.
Fuses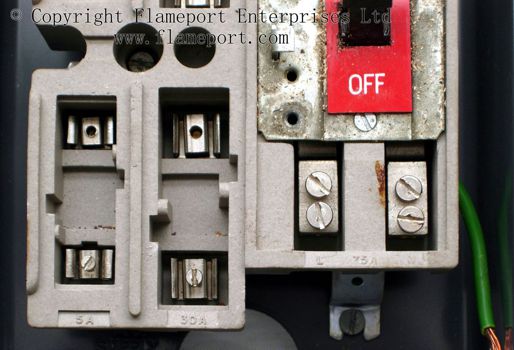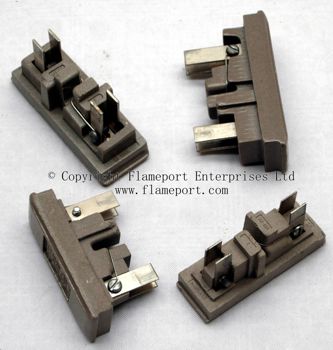 The fuses are rewireable types, made from a brown ceramic material. Unusually for fuses of this age, there are no asbestos flash pads.
These are in excellent condition, suggesting they have never blown.
Closeup views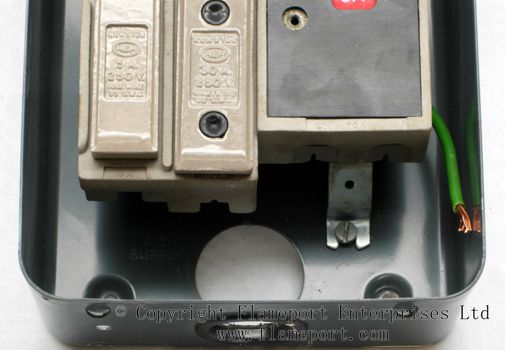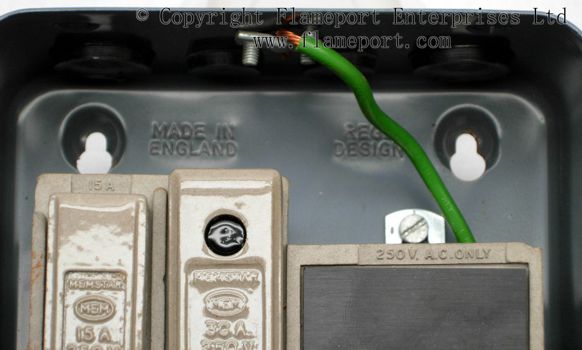 Two additional views of the top and bottom of the assembled fusebox.
The metal box has 'MADE IN ENGLAND' and 'REGD. DESIGN' embossed into the back.