Old Electrical Equipment - Centaur 4 way fusebox
Old rewireable fusebox, based on a Wylex design.
Front view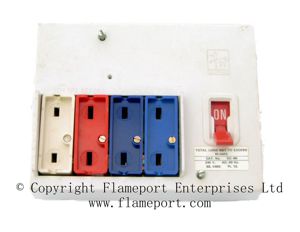 A plastic fusebox with 4 fuseways. This is essentially identical to the Wylex model, the main differences being the white plastic enclosure, Centaur logo top right, and a slightly different main switch.
The cover is secured with two screws, top centre and bottom right. The small hole directly above the fuseways was to secure the plastic front cover. This cover was missing.
This would have contained rewireable fuses, and in this instance these were all original Wylex ones.
Inside the fusebox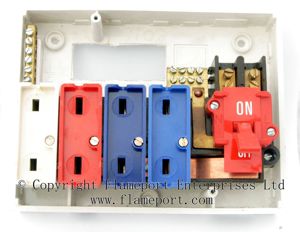 Inside, the layout is identical to the Wylex types. Earth bar at top left, neutral bar to the left of the switch, and the switch itself with the incoming supply at the top.
Unlike the Wylex version, the incoming switch terminals are recessed into a black plastic moulding. The Wylex type have exposed terminals with plastci press-on covers.
The coloured plastic shields are identical to Wylex types.
Busbar and outgoing terminals 1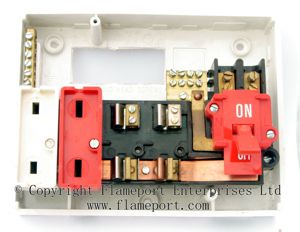 The two blue plastic shields have been removed. Outgoing circuits connected to the double screw terminals, with the fuse connecting this terminal to the lower busbar.
Busbar and outgoing terminals 2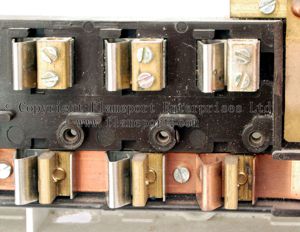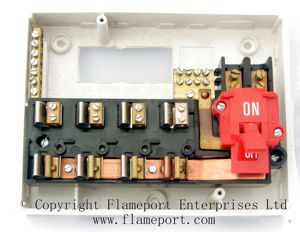 Here, all of the plastic shields have been removed. Although the different colour (rating) shields have various sized slots, the terminals behind are all identical. This enables maximum flexibility when installing the fusebox, as any combination of fuses can be installed.
The actual terminals are similar, but not identical to the Wylex originals.
As is often the case on these older boxes, the right terminals have signs of overheating damage.