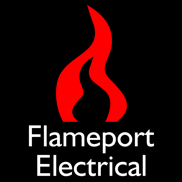 Old Electrical Equipment - MK Fused Spur, List No. 6164
Moulded plastic fused spur, switched, with flex outlet.
Front view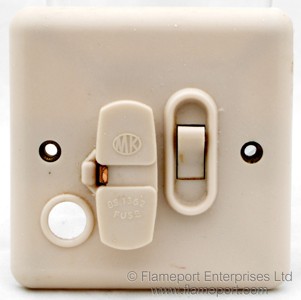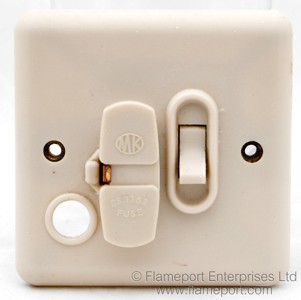 This example has a large round hole in the front plate, where the flex connected to the appliance would enter.
This would typically be used for a fixed item such as a wall mounted heater.
Back view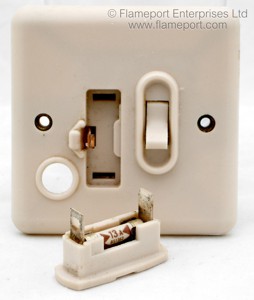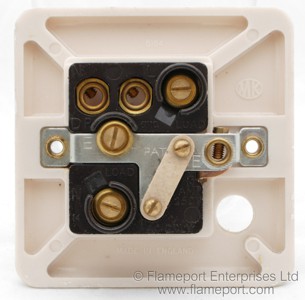 The incoming supply connects to the top terminals - N top left, L top centre. The earth terminal is to the right on the metal strap.
The appliance flex passes under the flat bar which is secured with two screws. Wires connect to the top right terminal (L), lower left (N) and the earth (centre). Note these all have brass cup washers to ensure the fine strands of the flex are all secured properly.
Fuse and holder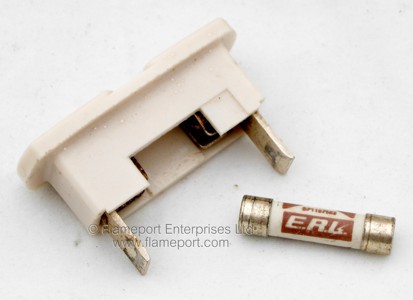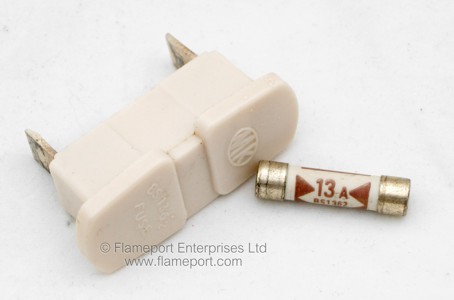 The fuse is a BS1362 type, the same as used in BS1363 plugs. This is a 13A example, which is by far the most common.
The rectangular space on one side is to ensure the holder can only be fitted into the plate one way.
This fuse is a modern replacement - the original would have been branded MK.