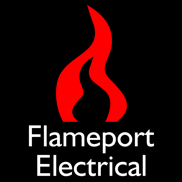 Old Electrical Equipment - MK Fused Spur Box, List No. 4073
Moulded plastic fused spur by MK.
View as when in use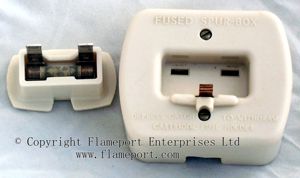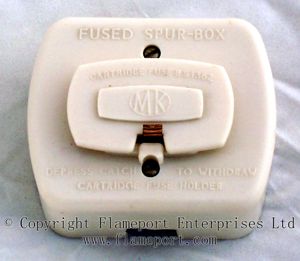 A small plastic box containing a BS1362 cartridge fuse. This would typically be used to supply a small fixed appliance such as a wall mounted heater or light fitting. This type of box allows a higher rated circuit such as a 30A ring final to be used, rather than installing a complete new circuit back to the fusebox.
Removeable fuse carrier
The fuse carrier pulls out to allow replacement by unskilled persons. The fuses are the same type as used in BS1363 plugs, so would be readily available.
Common values of fuse are 3A, 5A and 13A. This example has a 5 amp fuse, and was used to supply a wall mounted heater in a bathroom.
Interior view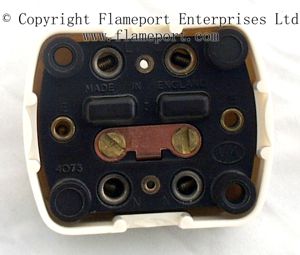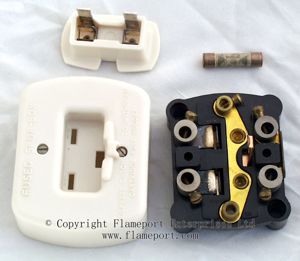 Two small screws secure the cover in place. Inside, the incoming and outgoing terminals are clearly visible line on the left, neutral on thr right, with the earth terminal forming a strap across the centre of the device.
Rear view
The terminals are exposed on the back of the device, and the edge of the cover has several removeable sections for surface fixed cables to enter.
This type of exposed terminal design is no longer permitted - the back would have to enclosed on a modern equivalent.
The two large holes at upper left and lower right are mounting holes where the box would be screwed to a wall or wooden board.