Neo Maintest Electrical Fault Finder
A neon single pole voltage indicator, which is electrically identical to a neon screwdriver.
Original Box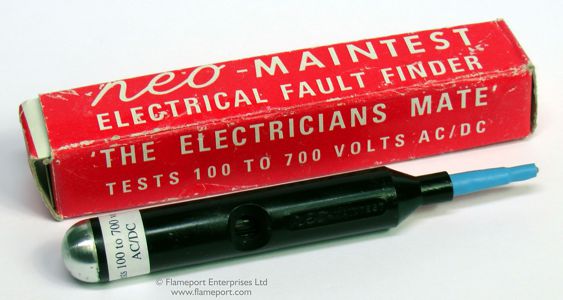 This is a neon indicator device, which relies on a conductive path through the user to operate.
Very similar in construction to the neon screwdriver devices that are available, although this one has no screwdriver tip.
As most 'neon screwdrivers' are entirely useless as screwdrivers, the lack of a screwdriver tip isn't a problem here.
Probe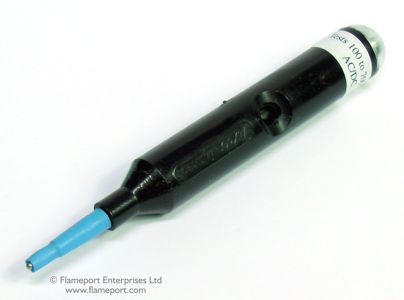 The device is constructed from a black plastic body which has a hole in the side to view the neon indicator.
The metal probe tip is covered with what looks like blue heatshrink insulation.
A metal cap and clip provide the conductive connection to the user's finger.
Packaging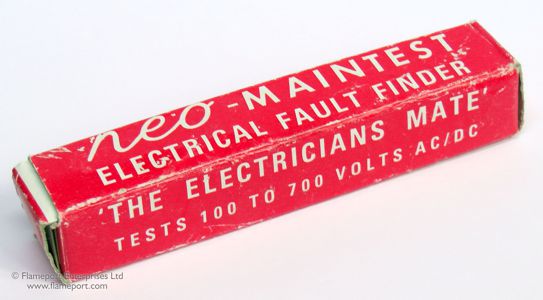 A minimalist white carboard box, printed in red only so that the text appears as white on red.
Neo-Maintest Electrical Fault Finder
'The Electricians Mate'
Tests 100 to 700 volts AC
Complete Set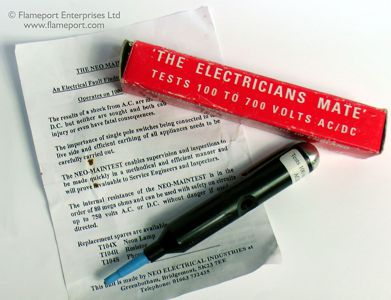 This shows the box, test device and instruction leaflet as originally supplied.
Internal Parts

Internally the construction is identical to other devices of this type - a neon indicator, high value resistor, metal cap and a spring to hold the items together inside the plastic case.
User safety is only provided by the resistor.
Cap and Label
Instructions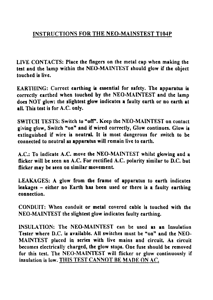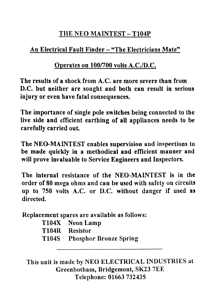 The instruction leaflet is double sided. Both sides reproduced here.
Rather bizarre that spare parts were available, including the neon lamp, resistor and spring.
No date is given, however the telephone number begins 01 which is after PhONEday, 16 April 1995.
Box

Large image of the box text.
Three sides have text as shown in this and earlier images, the fourth side of the box is plain red.
Fully guaranteed. Made in England by Neo Electrical Industries, High Peak, SK23 7EE.