TIMAC Automatic Electric Switch
Plug in mains powered timer device for controlling a single appliance.
This video shows the timer in detail, including the inner mechanism working.
Original Box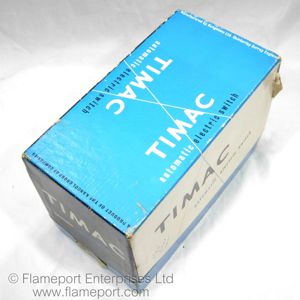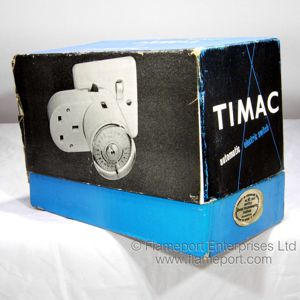 This item is complete with the original box. The photograph on the box is not of the actual product inside - it shows a version rotated 90 degrees, with the socket to the side of the timer.
The box is in reasonable condition with some edge wear, and has a 'Good Housekeeping Institute Guarantee' label on the front, No.2986.
Device and Instructions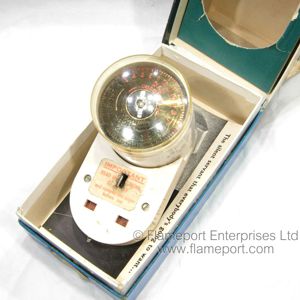 Inside the box is the switch itself, instruction leaflet, separate card describing the product and a gummed return address label with 'Kangolone Ltd, Doman Road, Camberley, Surrey' printed on it.
The round plastic cover fits over the timer dial. This has yellowed with age.
Front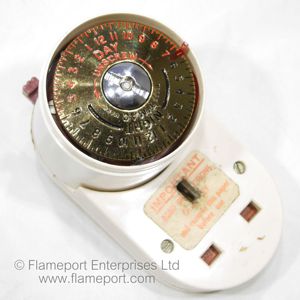 The front has the timer itself, front plate from engraved brass with red and black lettering. A BS1363 13A socket outlet is located below the timer.
The paper label reads 'Important, Read Instructions Carefully and remove this paper label before use'.
Switching is limited to one on/off per day, with the red and black markers at the edge of the dial indicaiting the on/off times.
The markers are adjusted by unscrewing the central silver screw, moving the markers, then tightening the screw to lock them in place.
Back and Sides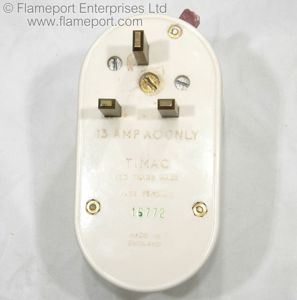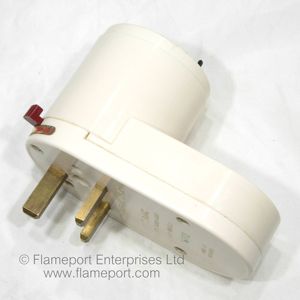 13 Amp AC Only
TIMAC
Reg Trade Mark
Pats. Pending
Made in England
The exposed screws on the back were originally concealed behind a filler material, this was removed during the video to allow the insides to be examined in detail.
The red lever on the top is to select timed / permanently on.