Volex branded switched 'heat and light' adaptor
Model V/410 with pull cord and chain in the original box.
Original Box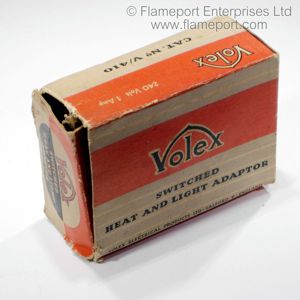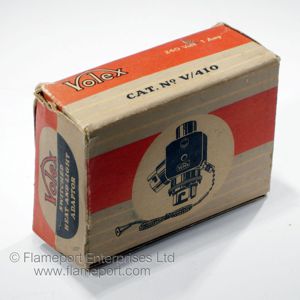 The cardboard box is largely complete, with only a few minor tears.
Rating is stated as 240 Volt, 1 Amp.
This is described as as 'heat and light' adaptor, as one outlet would be for the light, and the other a heater.
Brown Bakelite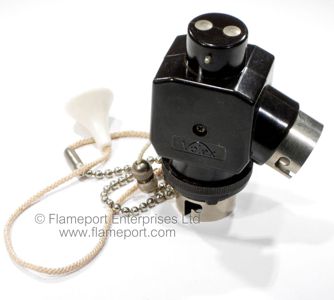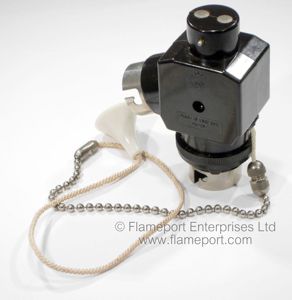 The adapator is moulded from brown plastic, probably Bakelite or similar.
One side has the Volex logo, the other '1 Amp Max', and 'Made In England, Patent'.
The lower socket has a retaining ring for a lampshade, the side angled outlet is plain, as this is where the heater or other appliance such as an iron would be connected.
Unused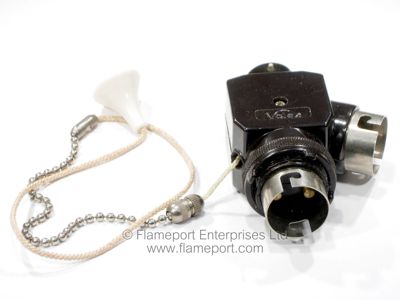 Although old, this item appears to be unused, and has the original pull cord and chain attached.
The chain can be unscrewed at the fitting closest to the adaptor, to allow easy replacement.
The rating is rather low - 1 Amp at 240V is only 240 watts, and with a 40W lamp, only 200W remains for whatever heating appliance was connected to the other outlet.