Royal Ediswan candle lamps in Osram boxes
Two styles of small bayonet lamp, apparently unused.
Unused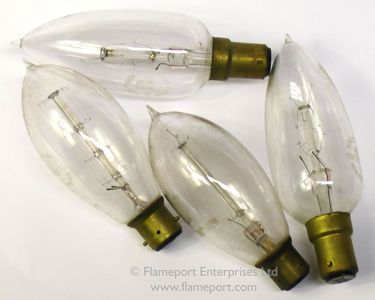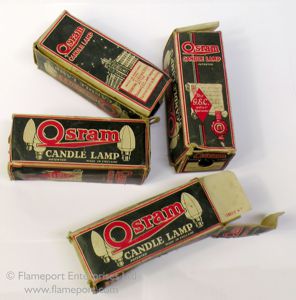 These four lamps appear to be unused are in some Osram cardboard boxes. Two styles, one with a clustered filament and the other with a very long linear filament.
There are some differences between the two linear filament examples, one has significantly more filaments supported at the ends only, the other has multiple supports and fewer filaments.
Age unknown but these are early examples, as the glass envelopes have a pip on the end, left from the manufacturing process.
Same but different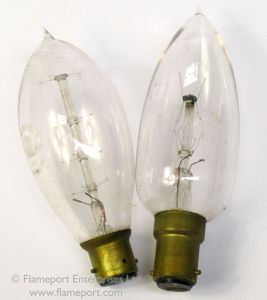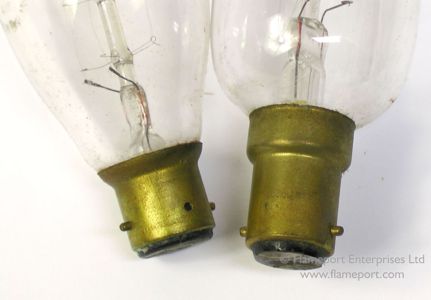 Both lamps are small bayonet (SBC), although the cap design is different on each. The linear filament version has a very shallow cap, which may be difficult to fit into some lampholders.
The clustered filament version has a more conventional style cap.
Royal Ediswan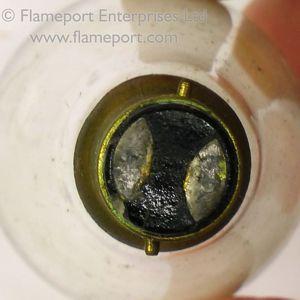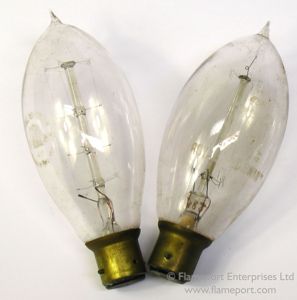 Some of the printing can be seen here, although it's difficult as they are printed in white directly onto the glass.
Royal Ediswan, Made in England. These are 20 watt lamps, and unusually 100 volts, so entirely unsuitable for use on modern supplies.
The end of the bayonet cap is shown here, with the two contacts on the end. Although metal, the outer cap is not electrically connected to anything.