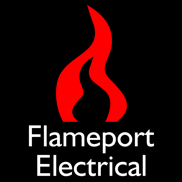 Old Electrical Equipment - MK cooker control unit
Flush mounted cooker control unit.
45A cooker control with socket outlet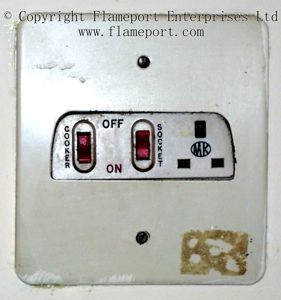 This giant sized cooker control dates from the era when a kitchen only had one electrical appliance - the cooker. A socket is included in case the household had the luxury of an electric kettle.
The faceplate is metal, and when removed, the central plastic section remains in place.
The backbox for these is equally massive - over 2 inches deep, and the same size as the faceplate. Two double size modern boxes will easily fit into the same space.
This example is probably from the 1960s, and was photographed in 2005 while still in use. The central section is loose, and the faceplate has the remains of some label on it. The entire thing is covered in grease and is representative of the state of the grotty flat it was installed in.
For some reason, MK still manufacture a cooker unit of this size. The modern one has square switches and red neon indicators, but is otherwise identical. Perhaps they expect people to replace these without changing the rest of the kitchen?