Lighting Circuits
Lighting circuits using junction boxes.
Junction Boxes
An alternative method, this uses the same wiring principles as the looped ceiling roses, but here the connections are made in junction boxes rather than the ceiling rose. The junction box effectively replaces the ceiling rose.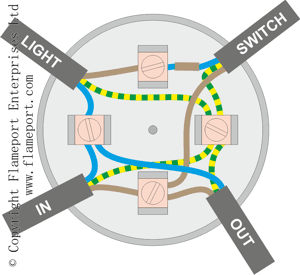 As with the ceiling rose, the IN cable supplies power from the consumer unit or previous junction box, and the OUT cable connects to the next junction box. These cables have permanent live, neutral and earth wires.
The switch connects between the permanent live and the switched live terminal. The lamp is connected to the neutral and the switched live.
When on, the switch is connecting the switched live and live terminals together (top and bottom in this example).
All of the earth wires connect to the earth terminal, and must have green/yellow sleeving over them.
Junction Boxes - end of line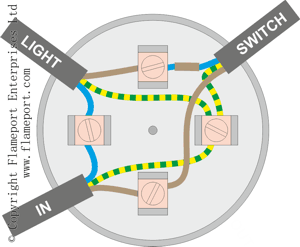 At the end of the circuit, the connections are identical, except there is no OUT cable.
As before, the switch connects the live and switched live terminals together, and the switched live wire has a small piece of brown sleeving on it to indicate it is actually a live wire.
The LIGHT cable connects to the light fitting. This might be useful if the lights are wall mounted, as only a single cable is needed to each light. Alternatively the light may be a nasty one with only 3 terminals in it - such as most of those purchased from DIY stores on Sunday afternoons.
Disadvantages
This method of wiring is not recommended. The main problem is that the junction boxes must remain accessible - rather difficut once they are hidden under floorboards. If normal ceiling roses are fitted, the terminals in them are largely wasted, and additional money has been spent on junction boxes which are not needed.
If the junction boxes are fitted in the loft, it is likely to be dark, very dirty and the junction boxes are probably buried under insulation, piles of old junk and several dead pigeons.
Old colours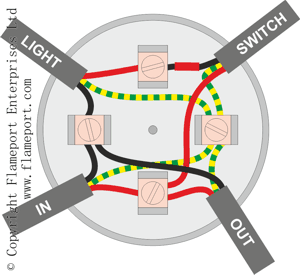 As with the ceiling roses, installations prior to 2005 will contain red and black wiring with a green/yellow sleeve.
Ancient colours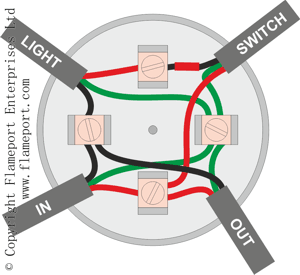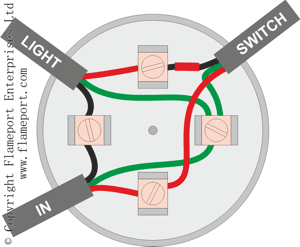 Installations with plain green sleeving on the earth wires will typically be approaching 40 years old and are likely to require replacement.
Junction box sizes
Although a 5A junction box is suitable for a lighting circuit (even if on a 6A circuit breaker), it is generally much easier to use 20A types. These are larger and have more space for the wires. There is very little difference in price between the 5A and 20A types, so there is no point in using the 5A ones, unless the physical size of the box is an issue.