Example cutout, meter and fusebox
This demonstration board shows the typical components for a small domestic electricity supply in the UK.
These are older items from the 1970s, although the principles are the same for more modern installations.
Identification of Components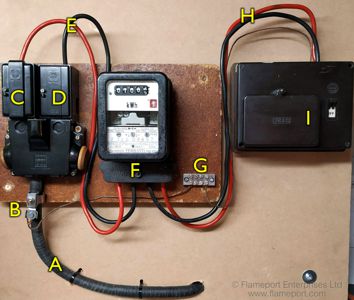 DNO Equipment
A: Incoming supply cable.
B: Earth connection, with earth wire to main earth terminal
C: Cutout with main fuse
D: Neutral link
Electricity Supplier Equipment
E: Supply tails to meter
F: Electricity meter
Customer Equipment
G: Main earth terminal, with earth wire to fusebox
H: Supply tails to fusebox
I: Fusebox with main switch (or consumer unit in more modern installations).
Who to Call
DNO
The DNO, or Distribution Network Operator, as the company resposible for the cable and cutout. Also known as a head, or main fuse. The DNO depends on where the property is located. A map showing the various DNOs and the areas covered can be found on the ENA website.
This is the company to contact if there is any problem with the supply, the cutout is damaged, or the fuse has blown. Individual contact details on the ENA website, or call 105 from anywhere in the UK.
You should also contact the DNO if you want the supply equipment moving to another location, such as outside into a cabinet. Do NOT attempt to move any of the equipment yourself.
Electricity Supplier
The electricity meter and the wires connecting it to the DNO cutout is the property of whoever you buy electricity from - details shown on your electricity bill. This can be one of many companies, and can be changed to someone else if they are offering a better deal.
This is the company to contact about the price of electricity, payments, if there is a problem with the electricity meter or you want a smart meter installing.
Building Owner
The supply tails from the meter, the fusebox / consumer unit and everything connected after that are the responsibility of the building owner. You will need to contact an electrician for any work needed for those.
If you are renting the property, the landlord is responsible and they should arrange the electrician for any repairs or alterations.
This video includes the meter board shown above and describes the components in more detail.
Ferranti FNN2Q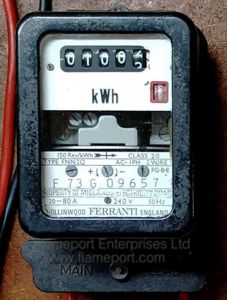 The electricity meter used on the test board above is a Ferranti FNN2Q.
150 rev/kWh, previously used by the Midlands Electricity Board.