Photos from 2019
Electrical installations conpleted by Flameport Electrical during 2019.
Fusebox replacement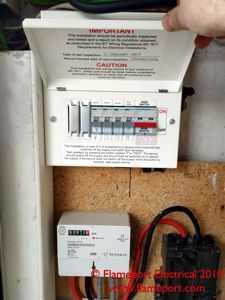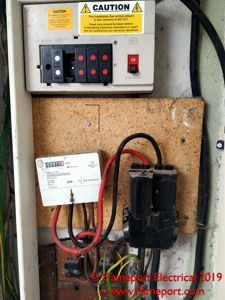 An older 1980s fusebox removed, and replaced with a new Hager consumer unit. RCBOs used, one for each circuit.
Tails were replaced as the old ones were rubber insulated with cotton covering, and significantly undersized.
Meter now fixed properly - was hanging off the board previously.
The missing fuse didn't have any wiring connected to it, so it was either removed at some point, or never existed in the first place.
Chrome sockets and leaf wallpaper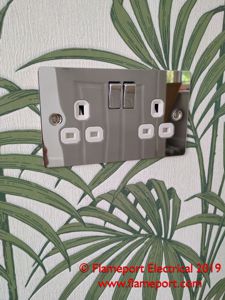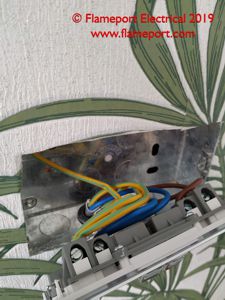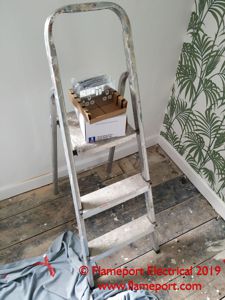 This room was rewired so that additional sockets could be added and existing ones relocated.
For the best possible finish, it's essential to have the various works done in the correct order.
Empty the room so that proper access can be had to the walls and under the floor
Electrical first fix, where cables and backboxes are installed
Replastering to fill over cable chases and ensure a high quality wall surface
Decoration - painting and wallpaper in this instance
Electrical second fix, where the sockets and other accessories are installed
Photos show the second fix. The only item remaining after this is the new carpet.
Flat accessories like these chrome ones require 35mm depth backboxes. This almost always requires new backboxes installing, as traditionally most were only 25mm depth.
Socket Outlet Replacement
Before
The single socket to the left is an original, and is on a ring final circuit.
The two doubles to the right have been added using surface wiring and are connected as a spur using a single cable. This is incorrect, as only one double is permitted on a spur.
After
The old sockets were removed and replaced with two doubles, extending the ring to the right hand socket outlet.
Cables concealed in the wall and under the floor, with white flush mounted sockets.