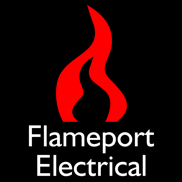 Flameport Electrical Payment Options
Preferred Payment Methods.
Card
Payments can be made on site using a portable terminal with any debit or credit card.
Contactless Google Pay and Apple Pay are supported, up to whatever the maximum is for your particular account.
Contactless card payments are an option up to £100.
Online card payments are supported - please email for a payment link if you want to pay this way.
Payments appear on your card statement as: Sumup*Flameport
Bank Transfer
Payments directly into the company bank account.
Barclays
Sort Code: 20-11-39
Account Number: 33910512
Account Name: Flameport Enterprises Ltd
Payment Reference: the invoice number (V followed by 6 digits)
These details are also printed on your invoice, or included on the PDF invoice if it was sent by email.
Please note that in the unlikely event of any change to these account details, it will NEVER be provided by email.
Emails suggesting alternative accounts for payments are a scam designed to steal your money. Don't be fooled by them.
Contact me by telephone if in any doubt about where to send a payment.
PayPal
Suitable for those who already have a PayPal account.
This is currently a manual process - please email for a payment request link.
Other methods
Other payment options here, however those shown above are preferred.