Flamport Electrical - Kitchen Rewiring and Alterations
Kitchens contain more electrical equipment than any other room in the house.
If buying a new kitchen or making changes to an existing one, it is essential that the electrical system is considered.
New Kitchens
A new kitchen isn't just about looks - it's important that it functions properly and is safe.
If a complete new kitchen is being installed, it's the perfect time to have the wiring and electrical accessories replaced.
Modern kitchens have a vast array of electrical equipment, and having the right number of sockets, switches, appliance connections and lighting isn't just optional - it's essential.
With the old kitchen removed, all of the wiring can be replaced easily, and sockets positioned in the perfect places for the new kitchen.
Most kitchens will require at least one dedicated circuit for the cooking appliances, multiple socket outlets for both portable and fixed appliances, plus lighting in the ceiling and other locations.
High level connections are often required for things like extractors, in-cabinet lighting and smaller built in appliances such as microwaves.
Lighting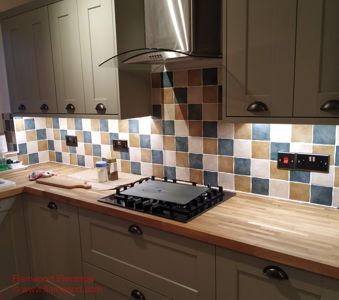 Modern kitchen lighting isn't just about ceilings - functional lighting can be installed in many places including inside cabinets and under wall units to illuminate the worktop. Pendants are a popular choice over island units or dining areas.
Decorative lighting covers a vast number of choices, such as worktop edge lighting, plinth lighting, coving lights and more. All of this can be controlled from conventional wall switches, activated when cupboard doors are opened or from smart devices.
However a kitchen lighting installation must be planned and wiring installed before the new kitchen is fitted.
If you are considering a new kitchen, please contact me to discuss the electrical and lighting installation.